KVYcam – program for video capture and splitting

Use this program for the following:
1. Capture video from your webcam (TV-tuner or other video devices) and send it to other programs (splitting).
2. Capture of video clip (film) and send it to other programs.
3. Capture of PC's desktop and send it to other programs.
4. Capture of image and send it to other programs.
5. Record video from your webcam and screen to MP4 file.
6. Change webcam parameters.
KVYcam can be used, as a virtual webcam.
The link for free downloading the last KVYcam version 4.3.4.0 is here
If you wish to see KVYcam with new features in the following projects, please make a donation.
Contents
1. System requirements
2. Installation
3. Get started with KVYcam
4. How to connect KVYcam to the other programs
5. Video control
6. Program log
7. New features, fixed bugs and beta versions
8. Versions
9. My contacts
System requirements
1. Operation system: MS Windows XP SP3, Vista, 7, 8, 8.1, 10. For MS Windows 10 see my recommendation.
2. CPU: Intel Dual Core (or equivalent) and faster.
3. RAM: 2 GB and higher.
4. (Optional) Webcam, TV-tuner and the other video devices.
5. (Optional) Video card with DirectX 9 support and later.
Installation
1. Download the last copy of KVYcam
2. Close all programs
3. Run SetupKVYcam.exe and follow instructions
Get started with KVYcam
Find KVYcam icon on the PC's desktop and and click on it:

The program's window: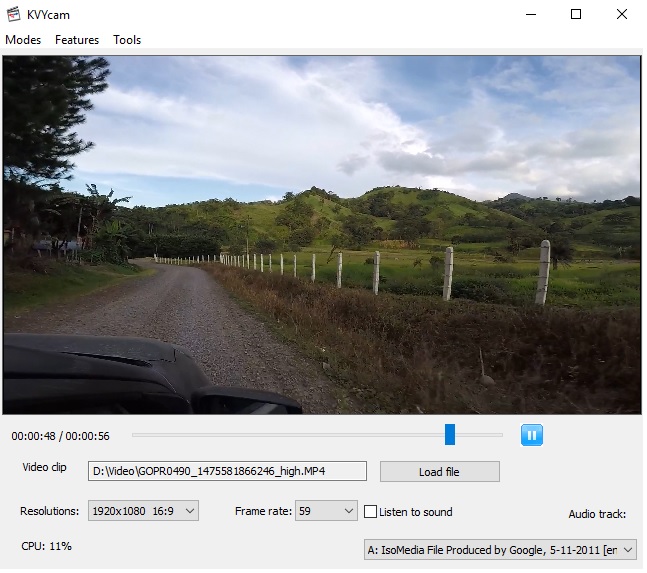 The program works in four modes:
– Webcam: for capture of webcam, TV-tuner and others
– Video clip: for film capture
– Desktop: for PC's screen capture
– Image: for image capture
For select of those mode use this combo box ("Modes Box"):

Webcam mode

In Modes Box click on "Webcam" and select your webcam and another device in this box:

The program is ready for work.
In this mode you can stop/play video using "Pause/Play" button:

and record the video from your webcam to MP4 file.
For it click on the button "Record to file" on the program's main window:

The program will open a window: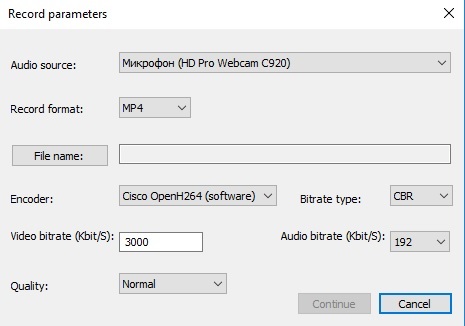 Here you should select your audio source (usually your microphone) and enter a file's name for recording. Then press the button "Continue". The record is started. You can control video recording by these elements:

The status bar shows a duration, size of the recorded video and number of unwritten blocks.
When you record the video into file, you should control the last parameter. If the number of unwritten blocks will rapidly increase, stop the record and change the resolutions and/or frame rate of your video. For details, see the section Video control.
Maximal size of a record file is 1.5 GB. If you exceed that limit, then the program closes that file and opens the new one with another name:
start_file_name(n).MP4
where is n = 1,2,3,4…..
Video clip mode

In Modes Box click on "Video clip" and load a film for playing by using the button "Load file". The program supports all main video formats: MKV/WebM, AVI, MP4/MOV, MPEG-TS/PS, FLV, OGG and etc.
By the check box "Listen to sound" you can control the sound of your video clip. This option is not available for MS Windows XP. In this OS the sound capture is not supported.
For play control use the button "Pause/Play", slider and time indicator. After film finish the program automatically restarts it again.
Desktop mode

In Modes Box click on "Desktop". Use the button "Pause/Play" for play control.
The Record operation is the same, as in Webcam mode. But you should remember that recording frame is equal to the screen size of your PC. Therefore there is not each CPU and HDD allow you to record those frames in live time. I recommend don't set big frame rates for that operation. For details, see the section Video control.
Image mode

In Modes Box click on "Image" and load an image by using the button "Load file". The program supports the following formats:
.bmp, .dib, .jpeg, .jpg, .jpe, .jp2, .png, .pbm, .pgm, .ppm, .sr, .ras .tiff, .tif.
Unsupported format: .gif
In all modes the program saves all settings your chosen. So in work you can switch the modes without select of webcams and clip loading. These settings are saved for the next start of program too.
How to connect KVYcam to other programs
You can connect KVYcam to any programs for sending video from your source. For example, to Skype, Adobe Flash Media Live Encoder, video chats and etc.
But for the first start I recommend to test KVYcam using one of my tests:
1. Webcam test Adobe Flash Player.
2. Webcam test HTML5.
For it do the following:
1. Run KVYcam, for details, see the section Get started with KVYcam
2. Load your connected program or one of my tests
3. In Video settings select the driver KVYcam Video Recorder for WinXP, if your OS is MS Windows XP. Or KVYcam Video Driver for the other OS.
4. In Audio settings select one of the drivers:
– webcam microphone, if use Webcam or Desktop mode
– webcam microphone or KVYCam Virtual Audio Clip Device, if use Video clip mode
Pay attention, KVYcam doesn't capture the sound in the Video clip mode for MS Windows XP. So there is not KVYCam Virtual Audio Clip Device for this OS. Therefore use only the microphone.
5. After it follow the instructions of your program or my test.
After those settings your program will automatically run KVYcam.
In my article How to connect a webcam splitter I show the examples of connections for video chats and Skype.
Video control
CPU indicator
Shows CPU loading of your PC. If its value is more than 80%, you should close unused programs and change parameters of your video or load a clip with less quality for Video clip mode!
KVYcam settings
Click on this button:

The program will open a window: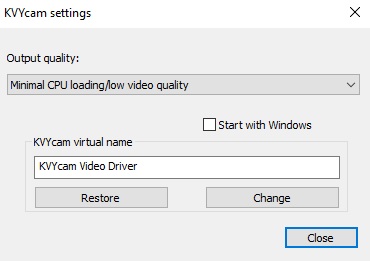 Here you can do the following operations:
1. Change resolutions and frame rate of your webcam (only for some mode). You should control their values depending on CPU indicator. If CPU loading is more than 80% – decrease them.
2. Set quality of the output video (splitting) by resize methods. You should control its value depending on CPU indicator. If CPU loading is more than 80%, decrease the resize method.
3. Access to the webcam configuration, if the webcam has this feature.
4. Set KVYcam's start with Windows
5. Find my contacts for any assistance and sponsorship
6. Donate something for new KVYcam project
Move to System Tray
This operation also allows you to decrease CPU loading, because in Tray the program does not show video in its main window.
For proceeding to Tray click on the Minimize button:

After it the program is moved to the System Tray: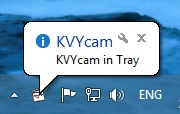 You can return back the program from the System Tray. For it open the Tray, find KVYcam icon and click on it.
Program log
For better tech support KVYcam creates its program log in the users directory:
For MS Windows XP:
C:\Documents and Settings\[user_name]\Application Data\KVYcam\KVYcam.log
For the other OS:
C:\Users\[user_name]\AppData\Roaming\KVYcam\KVYcam.log
In the log the program writes only tech information and bug messages. Please send me this log if you have problems with my program.
New features, fixed bugs and beta versions
New in KVYcam 4.3.4.0:
1. Optimization of video codec.
Fixed in KVYcam 4.3.4.0:
1. Crash after start of MP4 video clip.
2. Tray lock after replay of video clip.
In the next versions of KVYcam:
1. Capture of IP cameras.
2. Work on two monitors.
3. Capture of several webcams at the same time (PiP mode).
4. Audio mixer.
5. Custom watermark.
6. Video effects.
7. Snapshots.
8. Zoom.
9. Security.
10. Tray control window.
11. and another your ideas.
Do you want a new release of KVYcam with these new features? Please make a donation.
Versions
All versions of KVYcam have had an info banner on the main window since 3.x.x.x version. I'll call them, as "Public" versions: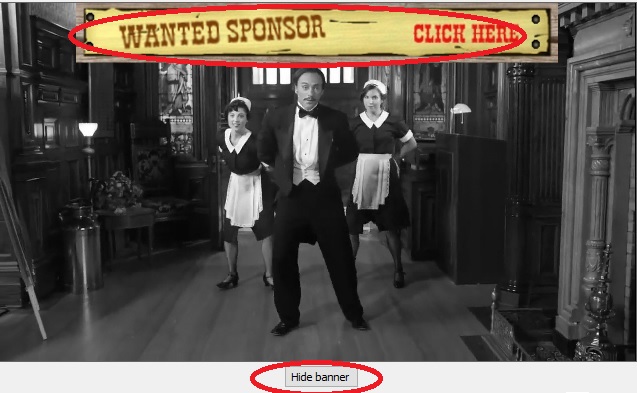 In the banner I show the information about the program's features, how to solve some problems and my sponsors' info. For detailed info from this banner click on it. You always can remove that banner by the button "Hide banner".
The program doesn't show that banner if the video goes with:
– low resolution
– low duration (for video clip less than 3 min)
– or has problems with loading the info for banner.
But I have an alternative for Public version of KVYcam. This is a "Free-banner" version of the program. That version doesn't have the banner and works faster than Public.
Free-banner version is not public. I'll send it if the user:
– found a bug in the program.
– or made a donation for any sum.
Free-banner version is only for personal using, may not be offered to anyone and has the third number 5 (x.x.5.x) in the version.
My contacts
If you have the problems with this program, new ideas for it, sponsor and advertising offers, please contact me